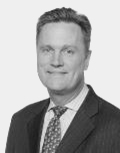 Power | Energy | Infrastructure | Mining | Privatization | Fund Raising | M&A
Robert Fernstrom has a total of 25 years of investment and corporate banking experience in leading financial service organizations. Prior to founding EACP, Mr. Fernstrom worked at KT ZMICO Securities as the head of the M&A/Special situations in Thailand. Before KT ZMICO, he worked at Newhall Capital Partners Limited (Tokyo), HSBC Investment Bank (HK) as MD and Global Head of Energy & Utilities, MD Energy & Utilities Nikko Salomon Smith Barney in Tokyo and HK, PT Salomon Brothers Nusa Securities (Jakarta) and Salomon Brothers Hong Kong Limited.
Mr. Fernstrom is a U.S. lawyer and member of the bars of New York and New Jersey, with an MBA from Cornell University, a JD from William Mitchell College of Law and a BA from Seton Hall University.